RootsWorld about Żywiołak
Żywiołak was formed in early 2005, initially as a musical duet: Robert Jaworski (a former member of bands like ich troLe and Warsaw Village Band) and Robert Wasilewski (the co-founder and guitarist of Open Folk). Almost all of 2005 saw a laborious collaboration between these two musicians, who were later joined by two female vocalists, Anna Piotrowska of the group Goście z Nizin and Izabela Byra from Detonacja, as well as an ethnic percussion specialist, Maciej Łabudzki, who was later replaced by Maciej Dymek. The band made its debut recording EP "Music of psychedelic Świteziankia" and shortly thereafter LP "New Ex – Tradition". Since 2011, for the new concept-album "Global Village" in the band appear the new singers Monika Wierzbicka (Nina Nu) and Karina Kumorek (Kara). The band exists until the summer of 2013. After this time, the existing roads diverge musicians. Robert Wasilewski – one of the founders of the band along with Karina Kumorek and Maciej Dymek assume Warszał project and Monica Wierzbicka, focused from now on her solo project Nina Nu. In 2014, team founder Robert Jaworski appoints new musical composition referring to the early achievements of the team. Since that time, in addition to Jaworski team consists of guitarist Kamil Strzyżewski , drummer Michał Stawarz and vocalists Olga Rembowska and Patrycja Zisch ,who was later replaced by Wiktoria Kwiatkowska.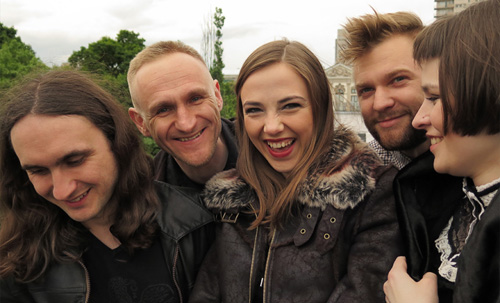 Żywiołak`s debut is considered to be their concert at the already defunct Warsaw club Jadłodajnia Filozoficzna on December 8, 2005.
The next day, the band played at the XV Międzynarodowy Festiwal Muzyki Ludowej Mikołajki Folkowe (XV International Folk Mikołajki Festival) in Lublin, where they were very warmly received, winning the Audience Prize.
Four months later, the band won the Polish Radio Grand Prix at the prestigious Nowa Tradycja (New Tradition) folk festival in Warsaw.
Their later successes included:
The Grand Prix at the Międzynarodowy Festiwal Gry na Instrumentach Dawnych i Byle Czym (International Festival of Ancient Instruments and Whatnot) in Starogard Gdański.
First Prize in the Młode Wilki Rebelia (Young Wolves Rebellion) rock bands contest organised by the bigest Warsaw club Stodoła.
Piotr Kaczkowski selected their track "Oko Dybuka" (Eye of the Dybbuk) for his Minimax 4 compilation CD.
Nominated for Polish Radio 3 Mateusz Święcicki Music Prize in 2007 for their innovative approach to folk.
The Virtual Gusli 2009 award for the CD "Nowa Ex-Tradycja" (New Ex-Tradition), which was also voted best folk CD of 2008 in an Internet poll.
The song "Moja Mała" (My Sweetheart) appeared on the Warsaw Uprising Museum`s CD Gajcy in 2009. 17.05.2011 appeared just long-awaited sequel to the worldwide blockbuster RPG gaming market – The Witcher 2: "Assassins of Kings". In the intro introduction to further adventures of the main character, you'll hear a song "Oh you, Petre, Petre" from the album New Ex-tradition.
In 2012 the album "The global Village" was nominated for Polish Academy Awards a phonographic "Frederick 2012" in the category "Album of the year folk/music world"
Crucial concerts:
Łódz Four Cultures Festival 2007.
Heineken Opener Festival 2008.
Przystanek Woodstock Festival 2008.
Concert to promote the new CD "Nowa Ex-Tradycja" (New Ex-Tradition) at Stodoła club, Warsaw, 2009.
The Gajcy concert at Warsaw Uprising Museum, 2009.
Castle Party 2010.
The band has played numerous outdoor and club concerts all over Poland, promoted Polish culture in Moscow and Vienna, and toured in Germany, Norway, Denmark, Czech Republic, Hungary, Lithuania and even Siberia.
Discography:
"Muzyka Psychodelicznej Świtezianki" (Psychedelic Świtezianka Music). Karrot Kommando records, 2007.
"Nowa Ex-Tradycja" (New Ex-Tradition). Karrot Kommando records, 2008.
"Nowa Mix-Tradycja" (New Mix-Tradition) remix album. Karrot Kommando records, 2010. "Globalna wiocha" (The globale village). Karrot Kommando, 2011.